News
February 2012: Centennial Birth Anniversary of Ernö Hetényi

Arya Maitreya Mandala worldwide commemorates one of the order's great pioneers in Europe: Ernö Hetényi (1912-1999) would have celebrated his 100th birthday on 13th February 2012. Dr. Hetényi was an eminent Hungarian author, expert in Tibetan Studies and Buddhologist. Among his numerous books are Kőrösi Csoma Sándor dokumentáció and Tibeti tanítók titkos tanításai.
Hetényi has been initiated into the Arya Maitreya Mandala in March 1953. Lama Anagarika Govinda on account of his extraordinary abilities, appointed him as the leader of the Eastern European Branch of the order. In 1956 Dr. Hetényi founded the Alexander Csoma des Körös Institute for Buddhology, the order's first academic institution in Europe. He has been very successful in strengthening the order's ties with Buddhist communities and institutions in Mongolia and countries of the former Soviet Union.
Communist authorities in Hungary did not provide support for spiritual activities, and many compromises had to be negotiated. In spite of great difficulties Ernö Hetényi accomplished an extraordinary work by facing challenges without fear or hesitation. He never lost his convictions about what is important, nor his vision of the future of his order. His legacy will be a great source of inspiration for generations to come in the Arya Maitrea Mandala.
March 2012 – Course on Mantra-Meditation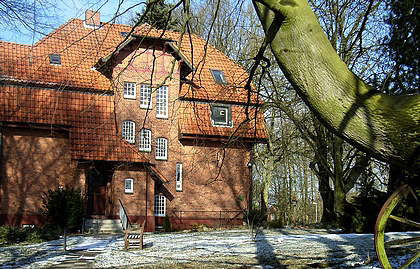 "Haus der Stille"

The Acarya, Dr. Armin Gottmann, will hold a course in German language on Meditation and Yoga at the Buddhist Center "Haus der Stille" near Hamburg in Germany from 15 to 18 March 2012. The course will combine Mantra-Meditation and daily lessons in Hatha-Yoga. Registration should be made directly with the "Haus der Stille" (www.hausderstille.org).
November 2011 – Lecture in Vienna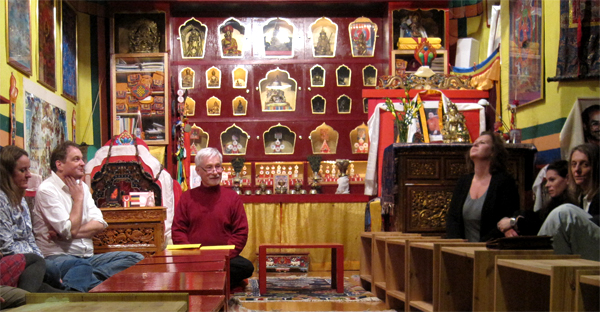 On invitation of the Austrian Branch of the Arya Maitreya Mandala the Acarya Dr. Armin Gottmann gave a lecture at the Buddhist Center Vienna on 11 November 2011. In his lecture the Acarya stressed the significance of Lama Govinda's fresh approach to Buddhism for the West. It was very stimulating session and attentive listeners asked many questions about Lama Govinda and his contributions to modern spirituality.
June 2011 – Disciples of Lama Govinda meet in Amsterdam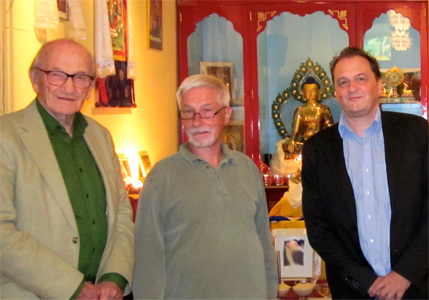 Robert Janssen, Armin Gottmann, Volker Zotz
A small conference on the philosophical and spiritual heritage of Lama Anagarika Govinda was held from 15 to 17 June in the Netherlands. The Acarya of the Order of the Arya Maitreya Mandala, Dr. Armin Gottmann, met with Prof. Dr. Robert Janssen and Prof. Dr. Volker Zotz at Maitreya Institute in Amsterdam. Robert Janssen, the host of the meeting, is a clinical psychologist and indologist, who was appointed by Lama Anagarika Govinda as the leader of Arya Maitreya Mandala for the Netherlands. The three disciples discussed the most distinctive characteristics of Lama Govinda's philosophy and meditative practices. On this occasion they also shared personal memories of their times with Lama Govinda who passed away a quarter of a century ago.